Discussion Starter
·
#1
·
I have a few different brands of guns in my meager collection.
Mossberg, S&W, Remington, Savage , Taurus, AKs, Uberi, Keltec,Rossi,Charter Arms, Iver Johnson,and a few more, but......
Ruger is the only one of which I wear something to let folks know how I feel.
The Carhardt was a free gift from Ruger, about 2-3 yrs ago, and the Cap was a gift from a friend, and it is a special, never marketed cap , so Im told, and I never seen another like it.
Im telling ya, if its below 40 degrees outside, this is my attire.
That Carhardt will burn your butt up ,its warm.
Doctors office, Court House, shoppin, Church, School, Restraunts, I wear it every where.
I know you guys got more and better ,
Would like to see it.
May gimme some ideas.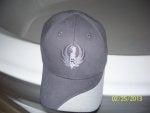 Jim