Discussion Starter
·
#1
·
Okay, as much as I like my new ruger, the field strip really could've used a little more thought. So, I've broken the process down into steps.
First, make sure the pistol is completely unloaded, magazine removed.
Then, pull the trigger.
Now, push down the little gate blocking the takedown pin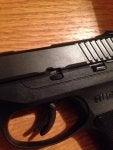 Pull the slide back about an eighth of an inch, revealing the entire face of the pin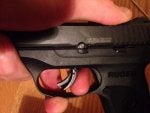 While holding the slide in this position, push the takedown pin out from the other side
Then, pull the slide off and take apart as normal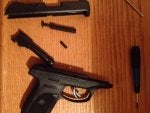 Then clean and reverse the process to reassemble
It can be a little tricky at first, but it's not that bad, just not as easy as, say, a glock for instance. Things smoothen out a little the more you do it, like most guns.
Anyway, hope you found this helpful!
Happy shooting!