Discussion Starter
·
#1
·
Been a busy few weeks for me. At the beginning of the month a group of us went out to Grand Junction for a nice wine weekend. During my planning and emailing details to everyone, I came across an interesting landmark on Google Earth. Hovered the mouse and lo-and-behold it's Horizon Dr Designated Shooting Area. Then I cross checked it with my topo and realized that we were a mere two miles from complete and open expanses of BLM land. So guns were packed as well.
The best part of the trip had to be pulling into Cabela's on a Saturday and seeing eight cars in the lot. But that was nothing compared to the shelves upon shelves of ammo they had in stock and still in pallets in the aisles. (Cue gospel choir and light shining down from above.)
I was good and only bought 100 rounds of each thing I was shooting. Just a few minutes later we were cruising down a dirt road past all the four wheelin' areas and pulled into the range. There weren't many people there, just a few friendly locals hanging out and chatting. One fellow informed me that they've measured out to 1200 yards on the base of the cliffs, and that the mid range berms go out to 600 in 50 yard increments. Sweet...
Spent about an hour there going through 500 rounds of stuff. I managed to hit a speed limit sign someone put on the 600 yard berm with the Scout irons. That place is a bunch of fun. Next we moved about a half mile up the road in a different gully and found the pistol range all to ourselves. We spent about 90 minutes there going through 800 rounds. Nothing measured, but my GPS showed a good 75 yards straight line of sight...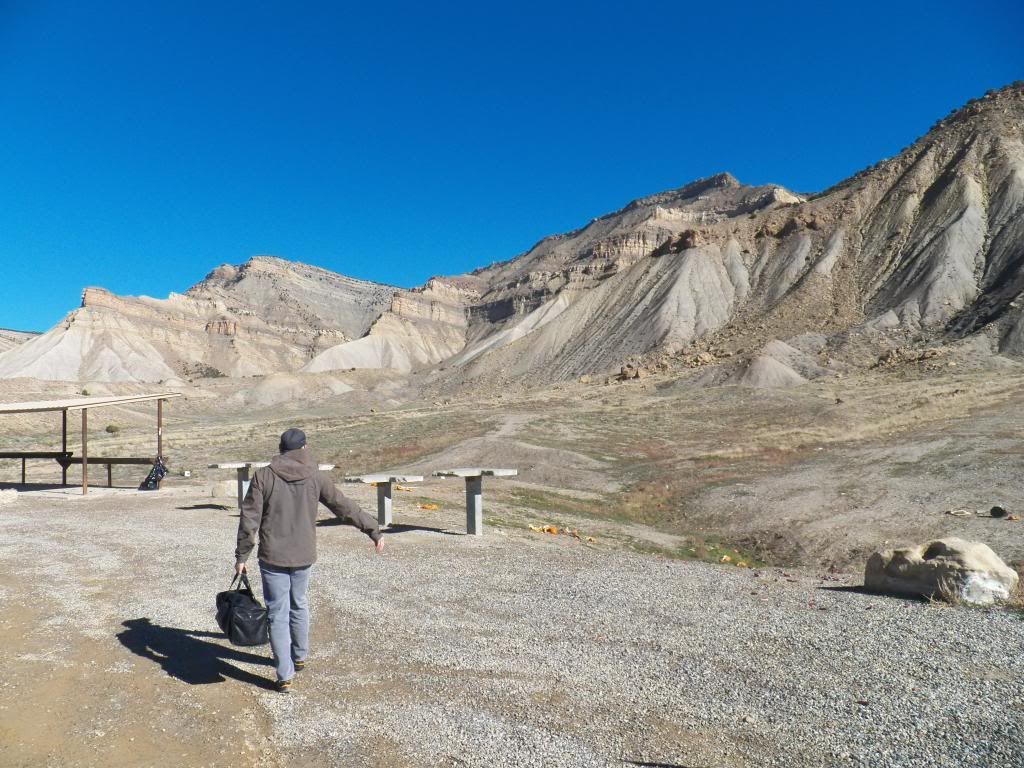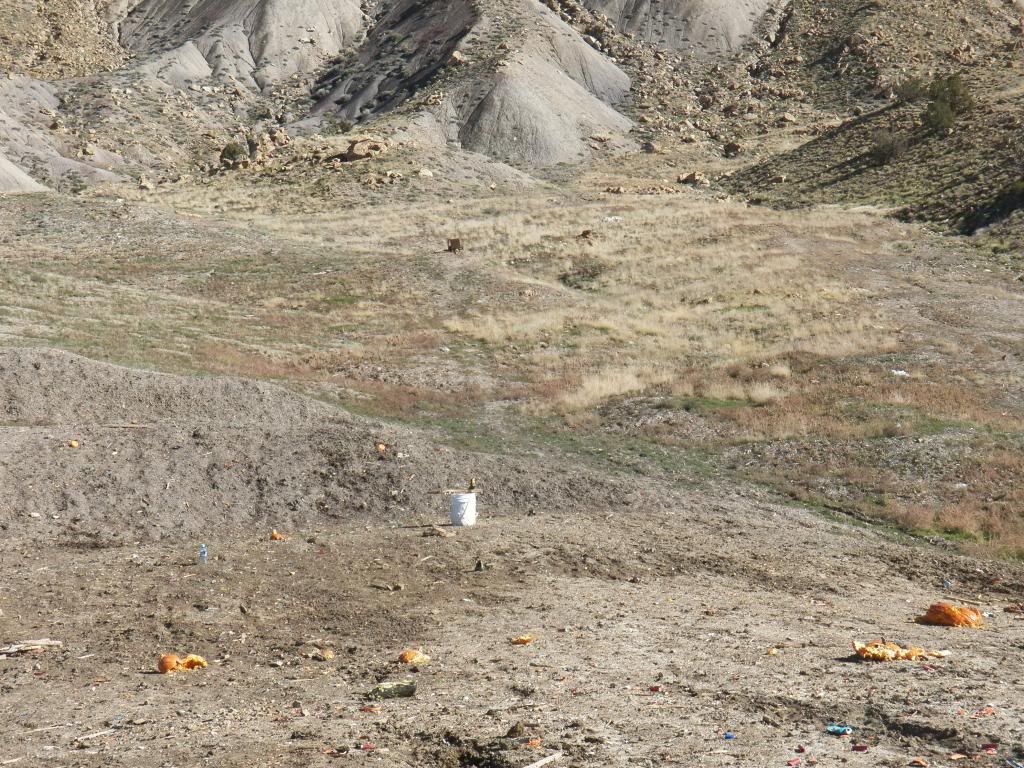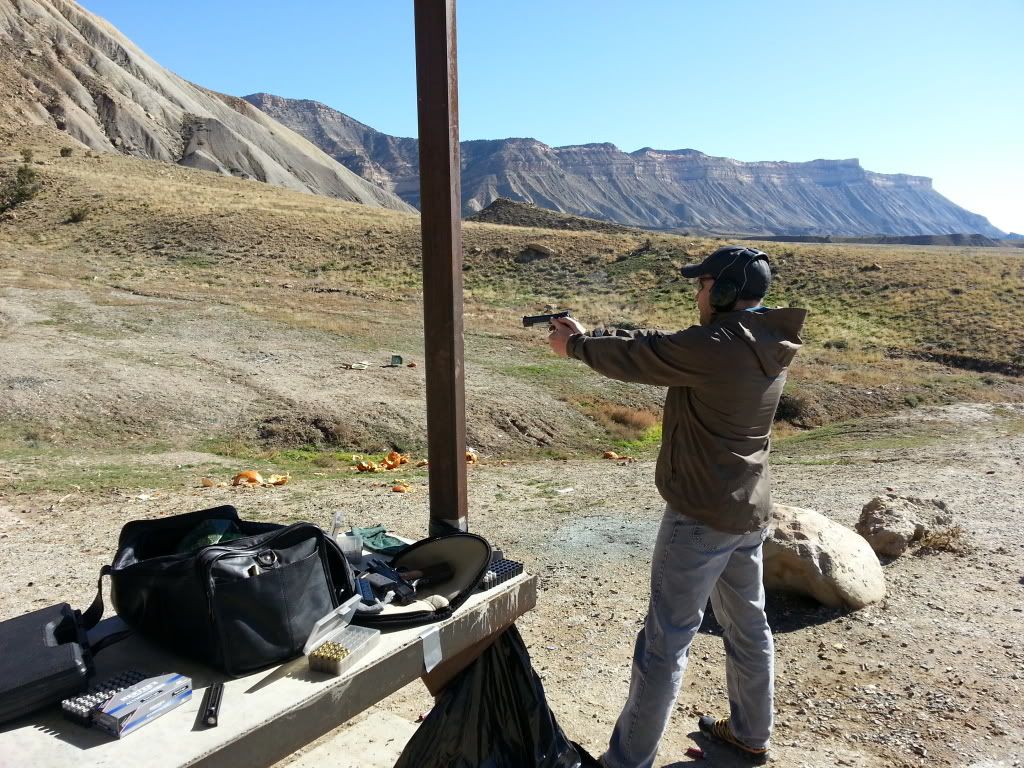 So that was WAY too much fun and the guys that didn't go got the itch for some outdoors time. Our ranch buddy ended up moving to Wisconsin and we lost that 300 yard area we were using. Google once again pulled through with an article about a designated area being built by the USACE on the grasslands northeast of town. According to the map, quite a ways out of town.
Chris just couldn't take it anymore and we planned an exploratory trip out east to see what the goings on were. The BLM and federal land is kind of a patchwork, and I see why it's a problem for the residents in and around the area. It shouldn't be, there are tons of nice spots with backdrops and miles of land behind it. Guess not many people use satellite imagery and topos with current property line information.
We never did make it to the designated area, still need to check that out. What we did find was a couple of guys cleaning up and heading out from their outing. Checked the maps for what's beyond the rise and we parked it. Tons of cactus, I didn't wear proper footwear. Still managed to do a GPS check of a solid 600 yards at the low point. Set up a few targets and went at it...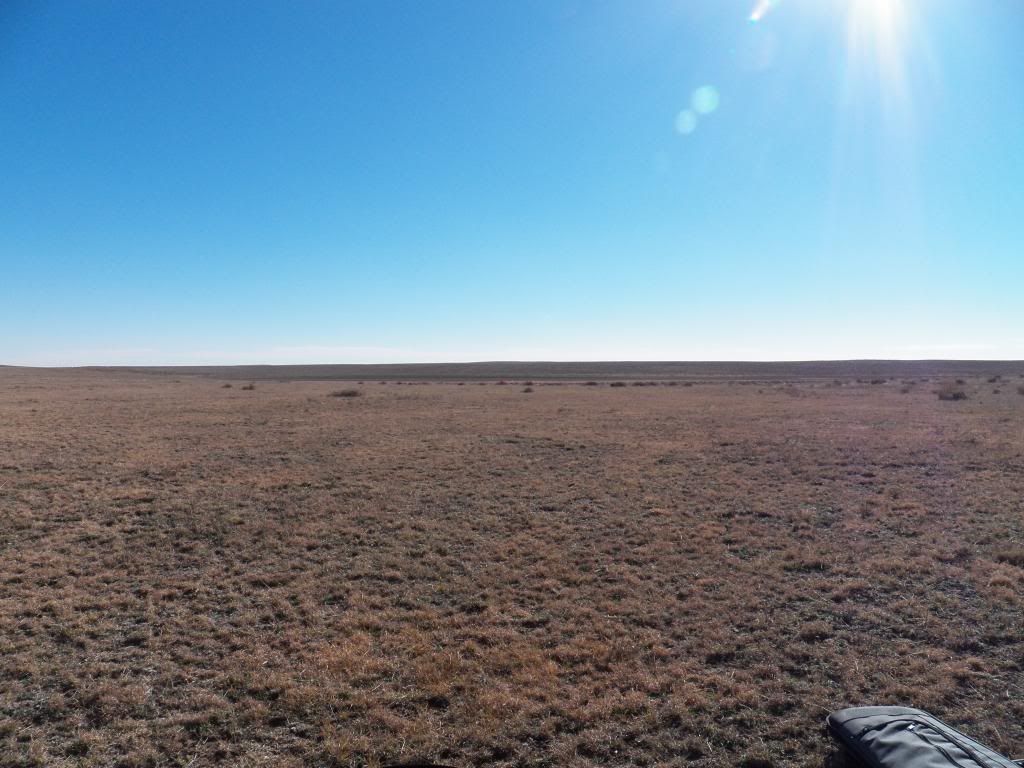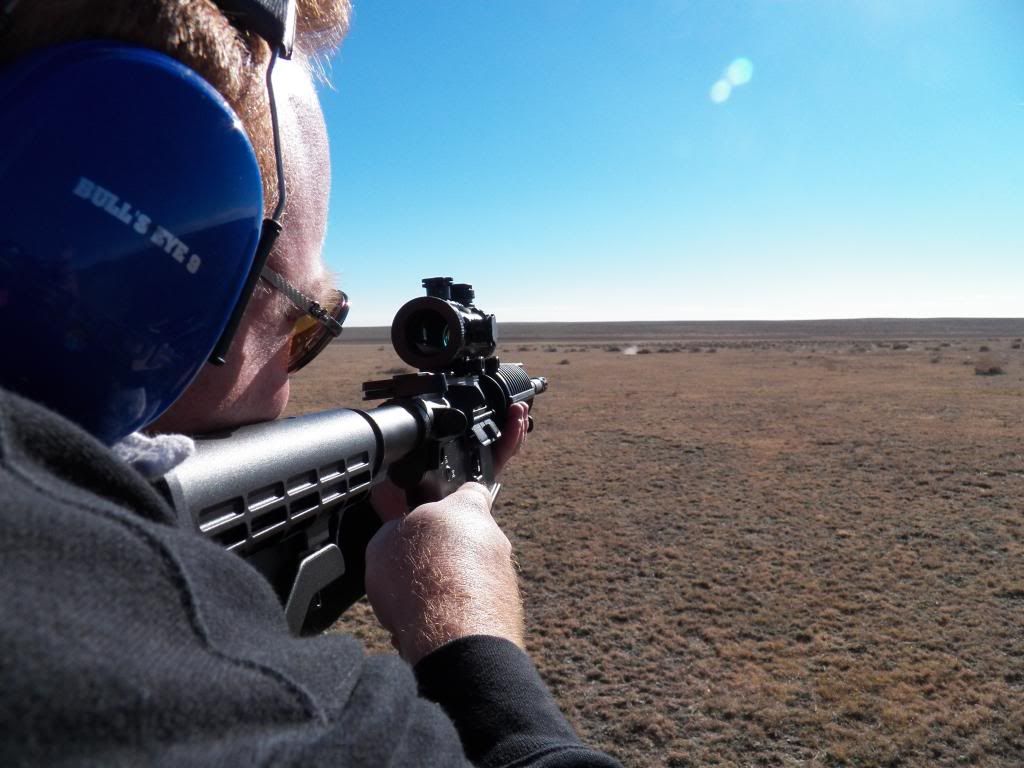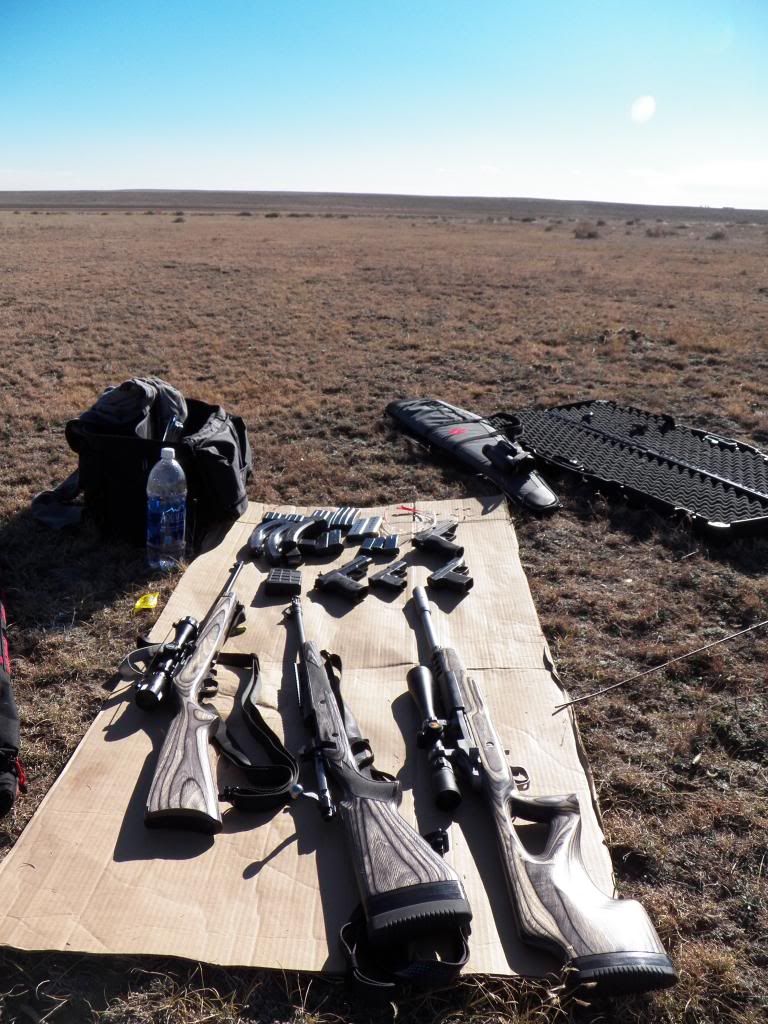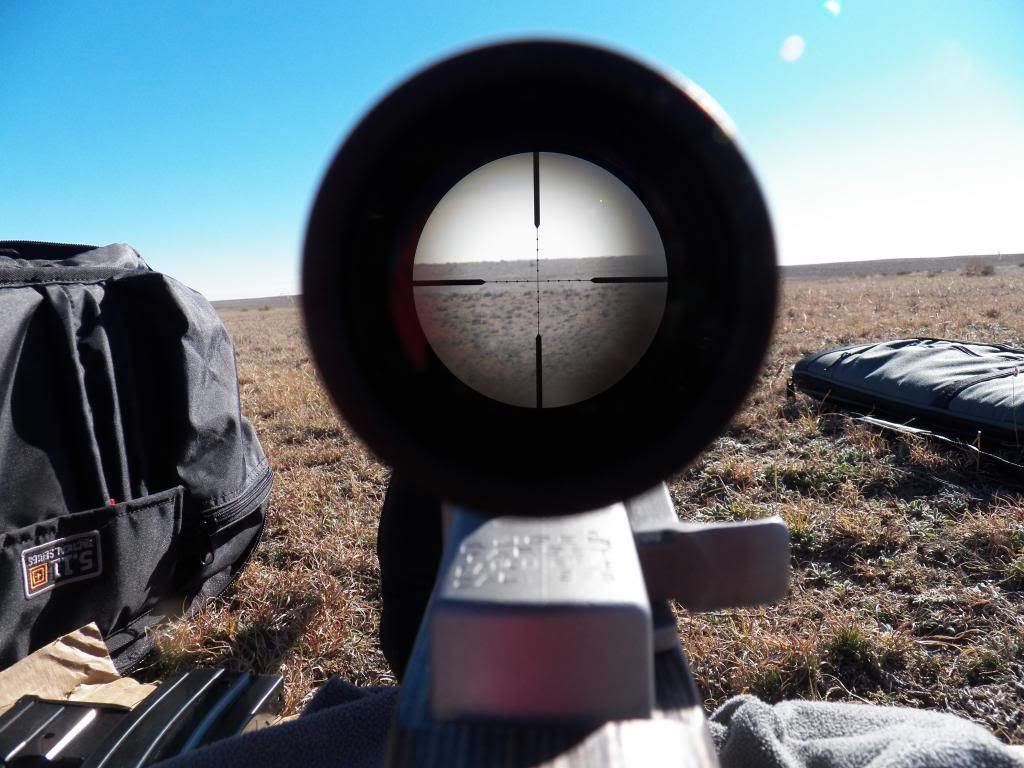 Apologies for not taking some target pictures. I should get better at remembering to carry the camera with me on the walk out. Next time I'll set up more serious and see what the Mini is doing.