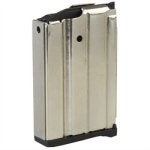 Hi, my father recently passed and left me his 1982 vintage (182) ss mini 14.
I am in California and I just brought it back with me.
First of all, I have no state legal magazines for.it. So I went out and bought a couple ss 10 round magazines on eBay. The thought process was that I wanted to keep it all stainless and factory CA mags were only available in blue.
Well they came in and look beautiful but I can't fit them in the gun. They are just a hair to wide on the trigger side. I have thought about squeezing one in a vice a tad or even grinding it down a hair. I have also thought about grinding down the receiver on the gun a tiny bit to accept them (but ruining the gun over a magazine seems ill-advised.)
I don't know what the eBay magazines are. There are no markings on them except the number 7 stamped on the narrow barrel side and on the bottom. I hate to throw my first $65 mini-money away.
Second issue: a friend says that he believes my gun may have a (no-no) "flash hider" -blade front site combo on it. If I were to hack it off I might be making the barrel too short as well as losing my front sight. I don't know anything about flash hiders or muzzle brakes or compensators but I took a picture of it and posted.
I contacted Ruger about the barrel issue and they offered to sell me a new ss ranch rifle at about a $400 discount (from retail) if I send mine in to them. Much of that discount would be eaten up by sales taxes, ffl delivery fees and California gun sale and reg.fees.
What to do? What to do?