Here is a report on that Marlin 783 .22 mag
I finally got to see what it can do.
So I park myself at 25 yard line, loaded up 8 Winchester SuperX 40 gr JHP,191o fps.
First shot at a peel and stick 2" bullseye on cardboard to see where the scope is.
12-14" low and 2" left.
made an adj on scope , 2nd shot 6" low but center on windage.
More adj and hit dead center.
Put last 2 rounds in center. Why only 2 ,you say,
Because the Win Super X is garbage, and 3 rounds out of 8 were DUDS. Good solid primer hits , no detination.
No problems with the CCI.
Moved back to 50 yards loaded 6 rounds of CCI 40 gr JHP varmint 1875 fps.
Never touched the scope again , and all 6 rounds were grouped 3/4" and a tad high. I was really impressed with the accuracy of the rifle and the CCI ammo.
I did a little plinkin at 1 1/4" wind chime tubes and some orange clays. FUN
I do have a problem with ejecting the empty cases, not every one, but at least 1 out of 3 times, it pulls the empty all the way back but doesnt eject it. If I wiggle the bolt forward and back a little , then it pops out. I will look into this .
Next outing will be at 100 yards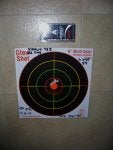 Jim