Discussion Starter
·
#1
·
I still can't believe we got gerrymandered in with Boulder. At least Polis isn't using the rhetoric and talking points that the Feinsteinians are. That gives me hope to contact dude repeatedly. But it still seems futile with him getting better committee positions from the higher ups. "Universal background checks", is some mighty tall verbiage to overcome. Even with folks I thought were kind of paying attention. Blah.
Anyway, I'm a bit new to arms ownership but not to them in general. Raised by my grandparents I grew up used to the sight of weekly strip and cleans. Mostly revolvers and bolts, but a few 1911's and other pistols too. After moving out (1997) I started selling cars in a half farm-type demographic and got used to a good portion of people around me carrying. Every few car deals involved some sort of firearm trade too. That's just how it was. It never bothered me even though at the time I thought it unnecessary.
Then I ditched the 60-72 hour work weeks on 100% commission. I love me some production based pay, but those hours crushed me after a decade. After hocking Mopars for 10 years I rediscovered the mountains. Grew up outside of Boulder so the high peaks and tundra were quite the stomping grounds for a bunch of outcast punks that skied x-country. Getting back out there is when it hit me that I might want a bit more protection than my mom hiking a few yards behind with bear spray. Sure, it's just Colorado, but I've seen the guys growing things in the forest and accessibility draws an unseemly crowd from the metro area to the trails where cars are unattended for hours.
Summer of 2010 I struck a deal with a friend who needed some quick funds. That's when I got my first gun, a slightly neglected Sig P220 with two seven rounders. Spent a few weeks learning things and brought it completely back to life. Still never shot more than a mag a month if that. We also got a Mossberg 146B from family and shot the hell out of that thing while camping.
Enter Grandpa again. Last November we started talking about something for the wife and went to the local range to play with an assortment of his guns. It was ridiculous. Everything from an SR22 up to the sweet Kimber 1911, and from the 10/22 takedown up to the PS90 and Sig AR-10.
Now we're members at the range, shoot once a week and on a mission to acquire a few more things. Amazing how a little practice changes your perspective on things. I never imagined owning more than maybe two guns, much less this little gem...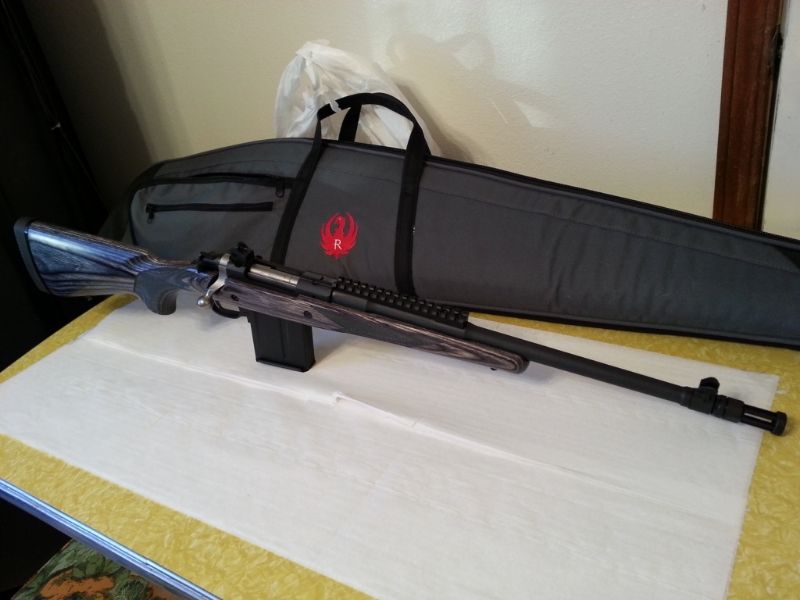 Being our first new gun we were instantly hooked. This thing shoots amazingly! Granted, we only have 25 yards to play with at the range. But a little bit of networking has netted us a 20,000 acre ranch to go play on. We shall see how this thing works further out soon. Just need to find some FREAKIN' .308's dagnabbit.
Keep in mind I've only been shooting for two months now. This is how the standing and sitting shots turned out for me that first day with the GSR...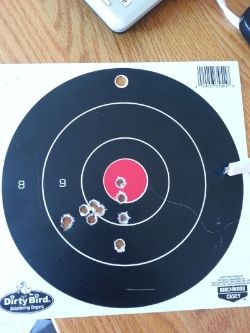 Sitting with bipod...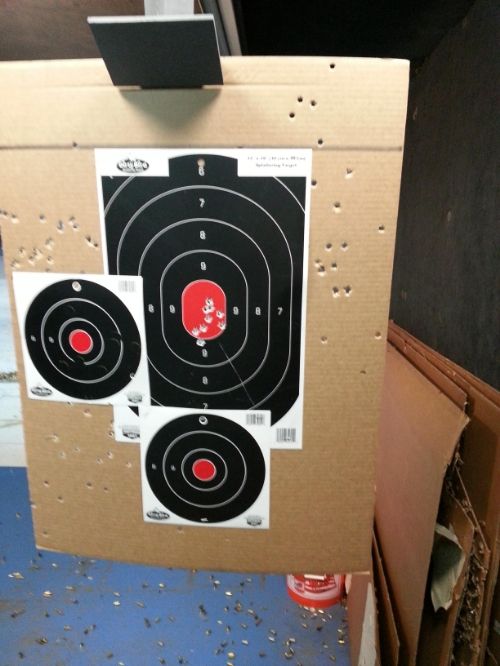 Holy ramble on.
I tend to do that.