Got both of these Saturday at the gunshow. It was a better show than last time. Lotta people. Maybe they all got their income tax checks. Also helped that there was a rodeo in the arena next to us.
I was kinda broke on Sat urday when I got there. I spent half my & on ammo. Finally got rid of my last plastic Taurus auto pistol in a large caliber and a fixer upper gun. That gave me enough to go ;hang: by the front door and get stuff coming in before the other vultures did. I was kinda toone side and all we were checking was overpriced safe queens & clunkers that no one wanted.
Got to check out some AR lowers up front in the 2 to 240 range assembled. Complet guns for 539. Still watching the door, I saw a guy with a Ruger precision rifle come in. He also had a Glock box. Rifle was not for sale, only the Glock 22 in .40 cal & one mag, 450 cash. He needed money to get stuff for the new rifle. Lowballed him at 350. He perked up and said 375. At that point, I took him to my table to get away from the gun vutures that were listening and gathering quickly. Didn't want to get into a bidding war over the gun. Checked it out good with my buddy. Went up to 360 on my offer and he went for it. Got a generic pic of a G22. Sorry camera busted.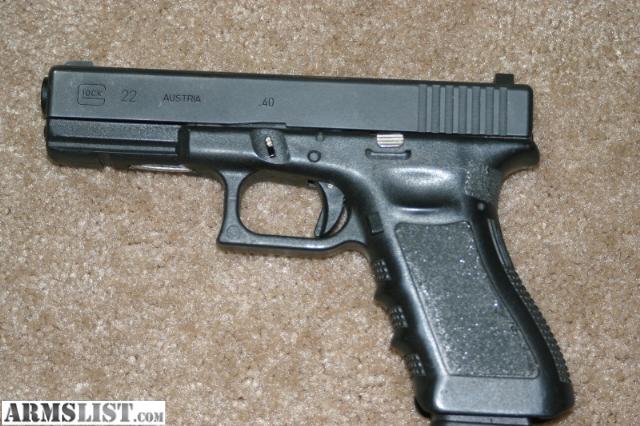 Thought I was done with Glocks for the weekend. I was not looking for them, but they kept turning up. I wouldhave liked one in .45 cal. Looked at otrhers that were too high. Saw a guy with a Ruger Bearcat, 60s vintage for 350 and a .45 convertible BlackHk for 5. The Bearcat was kinda fugly for the price. Theother gun LNIB.Offered 6 for both. He would not go below 7. Went back to my table to munch out cause it was an hour to closing time.
Guy walked by my table with a Glock box. Almost let him go by, but I had to look. He said a gen 4, G 27 with 2 mags LNIB for 350. I had to ask again cause I was not sure I heard right? He said 350. Well, .40 or not it was a good buy. I quickly offered 3 with nothing to lose. The gun vultures next to me were already looking over my shoulder. He went for 3. I could really live with that. SNAGGED IT!!!!!
Again a generic pic. The gun I got is a gen 4 G 27 with mags, cleaning tools, box. The G22 was likenew also, but only 1 mag and a box. I already have a G 23 in .40 cal and a G 17 in 9 mil. Still want the .45.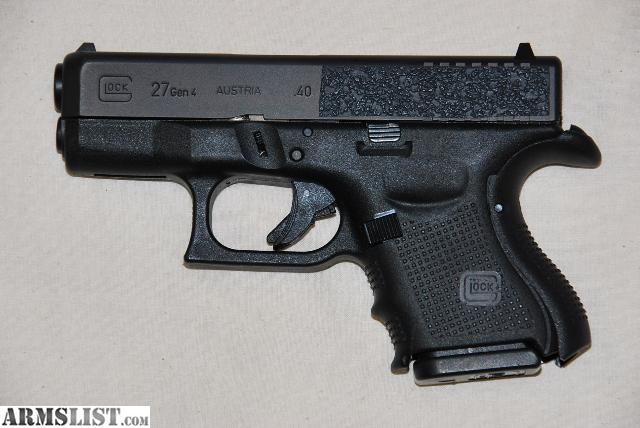 Now, do all these Glocks make me a Glock Fanboy, Glock Maniac, Glockaholic, Glock Hound, etc. I really never liked the Glocks,mostly cuause they were so expensive. Now there are so many I can afford a few. I will not pass one up at these prices. I have more Ruers than anything else. Does that make me a Rugerholic? Nah, I'm just running outta things I can afford to collect.