Discussion Starter
·
#1
·
Hey guys, Ive got an opportunity to pick up a Ruger Blackhawk chambered in .30 carbine.
Anybody have any experience with the Blackhawk in that caliber.
Should I even consider it?
I reload , and mold/powder coat bullets, for my M1 30 Carbine, just thinking the revolver would make a nice companion.
The guy wants 4 bills. That seems to be a reasonable price.
What ya think?
Here is a pic of it, he says bore is great , and its in like new condition, mfg'd in 1975.
Help me out here ...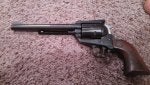 Jim